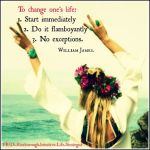 Are you considering making some positive changes in your life? If so, here are some suggestions to get you started.
1. Figure out your goals.
2. Make a commitment to change.
3. Figure out what's working and what's not.
4. Gain awareness of early childhood history and how it contributes to your life today.
5. Record your thoughts and feelings to gain more insight into your behaviors.
6. Choose which behaviors you would like to change.
7. Take an honest look at your relationships.
8. Work with an eating disorder therapist.
Call 626-335-0903, ask for Ilissa Banhazl, MFT and get started today!
Image credit: Anna Taylor, FB
To Listen To Talk Therapy Radio with Ilissa visit>>> Topic Eating Disorders and Body Image