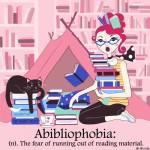 If you're getting ready for the first day of class, then there's a good chance that your anxiety and eating disorder/body image may be screaming at you.
This is what we call "situational stress"; quite normal for everyone. If you're normally anxious, then times like these will be worse.
What You Can Do:
You need to plan ahead and have certain coping skills in place.
Don't overload your class load and schedule down time.
Find someone to talk to. This is a good time to visit your therapist.
Exercise
Eat well and get plenty of rest.
Lower your intake of sugar and caffeine and drink lots of water.