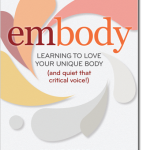 embody: A new book released at www.bulimia.com or wwww.gurzebook.com
A great read for anyone struggling with body image issues; as most of us are…
3 Facts About the Book:
1. Learn to be aware of and challenge the critical voice in your head.
2. Learn how to accept your body type and achieve healthy body esteem.
3. Learn to care more about what you feel and think about yourself, than you do about how others view you.
To purchase this book visit:  http://www.gurzebooks.com/books/embody.html